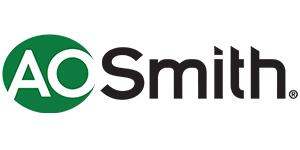 Among the world's leading manufacturers of water heaters and boilers, AO Smith was founded in 1874. When it comes to water heaters in New Jersey, the name to trust is Garden State Water Heaters, which is why the two go together so well.
When you want service from a water heater company that can take care of top brands, like AO Smith, we are the team to contact. Don't settle for less than the best when it comes to your residential water heater service, no matter what brand you have.
Vertex Gas Heaters - This gas-fueled water heater generates a consistent flow of 3 gallons per minute. That means everyone in your household has access to continuous hot water, at all times.
Effex High Efficiency Gas Water Heater - Want to see savings of up to 25% on your water heating costs? This fixture from AO Smith is an atmospheric gas-fueled unit and is the perfect choice for replacement application.
NEXT Hybrid Gas Water Heater - The only water heater of its kind, this unit combines a tankless engine and a small buffer tank. The end result? The best of both a tankless and a traditional water heating system, in one fixture.
ProMax - This gas-powered alternative is built with commercial-grade components. The design is meant to help reduce your energy costs as well as provide you with reliable service.
Cirrex Solar Water Heating Systems - Hailed the "ultimate solar thermal solution" when it comes to water heaters, this unit is known for high efficiency ratings and longevity. If you are seeking an environmentally responsible system and don't mind saving up to 70% on your water heating expenses in the process, this may be the ideal water heater for you.
Whether you need installation, maintenance, repairs, or replacement of your system, we can help. Call AO Smith for all your water heating service needs for your New Jersey home.
Our Recent Articles
Pros & Cons of Tankless Water Heaters
Tankless water heaters are certainly not a new phenomenon for New Jersey homeowners. However, they have become increasingly popular in recent years. Some people are still on the fence about it and there is nothing wrong with that. As wonderful as […] Read More
3 Signs You Need A New Water Heater
The system you depend on to provide you with reliable residential water heater service is still considered an appliance. With appliances comes the need to get maintenance, repairs, and, eventually, replacement. As a savvy homeowner, you want to be […] Read More