Bradford White Water Heaters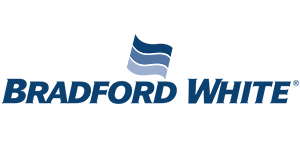 Bradford White is known for offering the highest level product and service and we here at Garden State Water Heaters are proud to service their appliances, right here in New Jersey. For the finest water heaters you choose Bradford White and for the best workmanship for their products you call us.
We offer both residential and commercial water heater service for a variety of high-quality brands, including Bradford White. There is no reason to settle for less than the best when it comes to the work that goes into your home or business.
Atmospheric Vent Models - Looking for a high-quality unit for standard water heating applications? Then the Atmospheric Vent Model is perfect for your household and we are the NJ water heater company that can provide installation, maintenance, repairs, and replacement.
Power Vent Models - The Power Vent Models are vented for positive exhaust and offer enhanced flexibility due to their ability to vent through a wall or roof. Plus, they have a thermal efficiency as high as over 90%.
Direct Vent Models - For unique situations where insufficient combustion air is not readily available, this unit is the perfect solution. Plus, no electricity is required for this co-axial based water heater.
Defender Safety Systems - Due to the innovative design of the flame arrestor, this system is able to maintain outstanding efficiency, as well as longevity. Even better, it offers maintenance free operation.
High Input Energy Saving Models - By design, these units use a draft diverter and venting system to provide your household with an increased amount of hot water. Best of all, this hot water is available for use at a much quicker rate of speed than with a traditional system.
Find out for yourself how we have earned the impeccable reputation around New Jersey that we have and let us take care of your Bradford White water heater.
Our Recent Articles
Pros & Cons of Tankless Water Heaters
Tankless water heaters are certainly not a new phenomenon for New Jersey homeowners. However, they have become increasingly popular in recent years. Some people are still on the fence about it and there is nothing wrong with that. As wonderful as […] Read More
3 Signs You Need A New Water Heater
The system you depend on to provide you with reliable residential water heater service is still considered an appliance. With appliances comes the need to get maintenance, repairs, and, eventually, replacement. As a savvy homeowner, you want to be […] Read More