Plumbing Services by Uncle Bo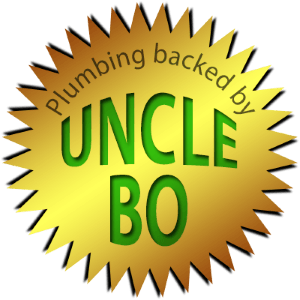 Plumbing Services
Repairs and installation
Kitchen and bathroom remodeling
Sewers and Drain issues
Testing and Inspections
Gas and Electric Water Heaters
Sump pumps
Toilets and Faucets
Piping
High Pressure Water Jetting
Drains
Sewer and Water Lines
Gas Lines
Renovations
Project Planning
Remodeling and uplifts
*Fully Insured and Licensed
About Us
Uncle Bo's, family owned and managed business, has been serving residential and commercial customers in the Hudson, Bergen, Essex, and Passaic counties since 19XX. "Uncle Bo's" family prides themselves on honesty, integrity, innovation and, of course, superior customer service. Our family business was built with pride, and is committed to providing our customers with quality workmanship and services.
Our family and team vision is to be the trusted residential and commercial plumbing company you and your family can rely on; quality without question. At customer satisfaction and communication is our highest priority.
History
Bo Scannavino, Certified Master plumber, opened his business at the age of 21, primarily serving the Hudson County area at that time. Nearly 50 years experience in the trade, "Uncle Bo's" enthusiasm and dedication in the field has yielded quality service, at reasonable and competitive rates, while always ensuring customer satisfaction to the surrounding areas. always offers professional skilled plumbing and heating services under the direction and supervision of "Uncle Bo" and his family, who have established a great reputation for themselves and their company.
Our Recent Articles
Pros & Cons of Tankless Water Heaters
Tankless water heaters are certainly not a new phenomenon for New Jersey homeowners. However, they have become increasingly popular in recent years. Some people are still on the fence about it and there is nothing wrong with that. As wonderful as […] Read More
3 Signs You Need A New Water Heater
The system you depend on to provide you with reliable residential water heater service is still considered an appliance. With appliances comes the need to get maintenance, repairs, and, eventually, replacement. As a savvy homeowner, you want to be […] Read More